November 2017 – Durfee Newsletter
Posted on November 6, 2017 by webmaster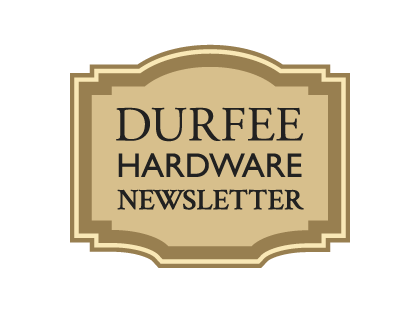 As always, we list the features of the month, and then I tell a story. Our bargains & features will definitely help you prepare for, and get through the coming winter.
I have a question for our readers; we are considering doing a bunch of TV ads, which means producing a video. What is it about Durfee's that you think we should highlight in the advertisement? Of course, we will have my nephew Ryan do the "voice over" because he sounds great in our radio ads. Send us a note with your ideas by using the contact form at the bottom of this page.
---
November's Features of the Month

Portable Buddy Heater (119707)
Master Mechanic 20v Drill / Impact Driver Combo Kit (211894)
Infrared Tower Heater (210163)
Foam Weatherstrip Tape (174425)
3 pk. Indoor Shrink Window Insulation Kit (895915)
Your Choice – 18×28" Door Mats
Snowman (228703) or 'Tis The Season (228704)
Your Choice – Silicone Rubber Sealant
2.8 oz. Clear (435013), or 2.8 oz. White (214015); 9.8 oz. Clear (740324), or 9.8 oz. White (740332)
Your Choice – Micro-Partical Filter
16x20x1 (214021); 16x25x1 (214023); 20x20x1 (214026) or 20x25x1 (214028)
Holiday Laser Light (222410)
12 ft. Airblown Santa (222417)
Digital Plug-in Timer (197514)
50 ft. Outdoor Extension Cord (239962)
48×27" Snowman (222772)
Your Choice – 50 ct. LED Light Set
Pure White (209206); Warm White (209207); Multi-Colored (222426)
Your Choice – 100 ct. LED Light Set
C6 Warm White (179307); C6 Multi-Colored (179305); T5 Warm White (179318); T5 Multi-Colored (179320)
2 Gal. 6 oz. Gas Can (715573)
63×59" Dog Blanket (157304)
10" Lamb Chop Dog Toy (136016)
Molded Wood Toilet Seat (141420)
2 pk. Water Filter Cartridges (583393)
36" Draft Stop (123880)
16 pk. Command Light Clips (176531)
1 Gal. All Purpose Simple Green Cleaner / Degreaser (195859)
Your Choice – 8 pk. Alkaline Batteries
AA (197355) or AAA (197356)
100 ct. Color Changing Light Set (168246)
Your Choice – Solar Stake Light
Cross (215339) or Angel (215340)
Your Choice – Qt. Motor Oil
10W30 (126680); 5W30 (458174); 10W40 (228841)
---
STORIES
Computers and the internet are everywhere so you almost don't think about them anymore. My Dad was pretty much not interested in computers. It even took us forever to get him to use a credit card, but necessity is the mother of invention. Us "kids" changed the store over to a computerized inventory, point-of-sale, and accounting system; and because it has to do with business, my Dad made a point of learning how to use the computer for those things.
Like it or not, you can find out almost everything about anyone on the internet these days. I "Googled" my brother Paul recently and one of the first things that comes up is that he is an actor. Huh? An actor?
Believe it or not, films have been shot in the store and my brother has been an "extra". Well, hardly even an extra. As he says, "I stood behind two guys having a conversation" in a scene from a movie called "Almost Human". He was also in two scenes in "Painless" which was showed last month at the Pawtucket Film Festival. You can come in and get his autograph, if you like. It's nice to know my family are not the only ones that think the hardware store is a cool place.
So what else happened "before the internet"? (Is there even such a thing?) Certainly lots happened, but one thing you might find interesting is that Paul was in the RI House of Representatives between 1978 and 1982 (for those that like the "inside baseball" of politics, the district boundaries were re-drawn in 1982). My Dad always told me not to mix politics and business, so I will skip on right to something interesting about hardware. My brother was a member of the True Value Ad Council in 2006. For a cooperative with over 4,000 stores, it shows you how well respected Durfee's is for him to get that appointment.
---
MY STUFF
It's funny, when I write this newsletter I cannot remember all the stuff I bought. For once, I actually made a list on the computer for what I needed on one visit to the hardware store. As you might suspect, I'm trying to get a lot of stuff done before the weather gets too cold. Here is my list; maybe it will help you with your winter prep ideas:
Black Jack Roof Coating
Patching & Crack Filler for the Driveway
Sprayer & Waterproof Coating
GoJo (to wash the hard to remove stuff from my hands)
Meyers Dishwashing Liquid & Soft Soap
Grass Seed & Top Soil
Fertilizer & Lime
Liquid Plant Food
Septic System Treatment
Toilet Fill Valve
LED Lightbulbs
AA & AAA Batteries
Foam Brushes
Lemon-Scented Pine Sol
Baking Soda
Diamond Blade for Circular Saw
Washer (for a table we bought that was one washer short)
---
Have questions or comments about the Newsletter? We'd love to hear them.
---
*Durfee Hardware will never ask you for sensitive information through any electronic correspondence*