June 2018 – Durfee Newsletter
Posted on June 1, 2018 by webmaster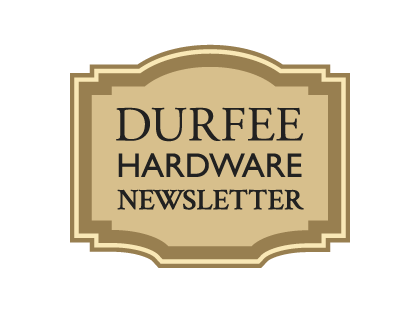 It's still the right time to get your yard working items. I'll also remind you that it is now officially hurricane season. You may want to consider stocking-up on supplies in preparation for power outages or flooding.
---
STORIES
I talk often about my Dad, and now that he is gone, the things that remind me of him. Clearly the hardware store is one of them, but also there are traits you find in yourself that are generally explained by looking at your parent's behavior. Maybe it's just because my Dad was an "Old Yankee" in the New England definition of that term, or maybe it's the influence of running a hardware store, but I find myself to be kind of a minimalist. Maybe that is because we fixed everything that broke around the house. I suppose it was partly due to my Dad being able to fix just about anything, but probably to avoid spending money as well.
An example or two of what I mean by this come from my childhood: A fridge with an ice cube maker? Crazy. It could break and it doesn't hurt you to make your own. A car with automatic windows? That is just another accessory that can break – bring on the manual handles. For the longest time we had a push/manual mower (no gas engine). Eventually my Dad got a riding mower when he got older (although I think he regretted it whenever he had to work on it).
Fairly often my wife will ask, "Why don't you get one of those", referring to some device or thing that would have the appearance of making my life easier. I usually say no and I think she wonders why. I guess it's in my genes…
---
MY STUFF
I already shared with you that I had some damage to my knee, so I didn't do anything to speak of last month. We did go to Durfee's to buy a bunch of hanging plants and flowers for the window boxes. I also bought some things to prepare for repainting my other bathroom. We picked out a spray paint for the medicine cabinet. I also bought some driveway patch in hopes of being able to do that soon. One thing I realize that I do need are those foam kneelers, given my recent injury.
---
Have questions or comments about the Newsletter? We'd love to hear them.
---
*Durfee Hardware will never ask you for sensitive information through any electronic correspondence*