January 2020 – Durfee Newsletter
Posted on January 2, 2020 by webmaster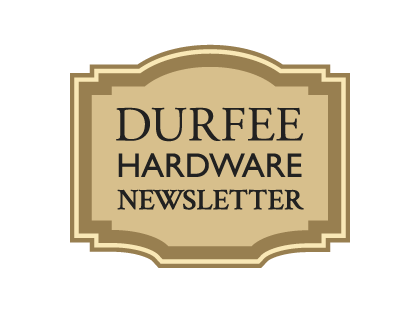 THIS IS OUR 90 YEAR SERVING YOU!!!
---
Well, winter is going to be in full swing shortly so make sure you get your rock salt, sand, shovels, snow blowers, etc. BEFORE the snow comes. We have a really good foam tool to take snow off of your car without scratching it.  That is really great if your car sits outside while you are at work.
Also, since you are going to be stuck inside a little more, maybe you should consider painting a room or two.
---
STORIES
We hope you all are enjoying the holidays.  We have lots of holiday family memories.  We would put a real tree up in the living room for Christmas.  The living room was a room that we never actually used.  It had "good" furniture it in and the kids never played in it.  It sounds crazy to me now but I had lots of friends that also had that room that was only used a couple of times a year.  (Maybe even had plastic on the furniture for a lot of the time…)  When we were really young, a lot of the toys would come from the hardware store because we had a toy department.  The toy department was on the second floor of the building.  I remember we had a full line of matchbox cars that I really liked.
Anyway, my mom would allow us to each open one package on Christmas eve and then we'd be able to open everything else up on Christmas day.   For almost every holiday there would also be a 2 hour drive to Broad Brook Connecticut to visit my mom's parents.  The travel time seemed like days to us kids.  I distinctly remember the "clacking" of the tires against the seams of the concrete slabs that made up route 6.   There may have been one or two times where our parents threatened to pull the car over if us three boys didn't settle down.   Funny, route 6 still "clacks" after all these years.  Makes you wonder if we should invest the extra money for concrete highways instead of tar.  Even though my mom was from Connecticut, our family was "true Rhode Island".   What I mean by that is that we stopped for lunch in Situate RI along the way to break up that trip.  (Any trip more than 30 minutes is a trek to us Rhode Islanders.)
Since my grandfather on my mom's side wasn't the handiest guy (and neither were my uncles) my dad would always bring some stuff from the hardware store to repair things he noticed were broken the last time he visited.  I must have noticed that as a little kid and I ended up continuing the tradition when I went to visit my own mother-in-law who lived north of Boston.
Anyway, we hope you all enjoyed your holidays this year (whether or not you did some home improvements).
---
MY STUFF
I came to the conclusion that my microwave was too low over the stove to appropriately vent steam and smoke from the stove.  That happened because I used to have one of those stove/microwave units that were popular decades ago.  Now they are separate and it required a smaller overhead cabinet.  We've been suffering with his for years.  We just bought new appliances and I decided to resolve this problem.  I bought some router bits for my router table so that I could make new, shorter cabinet doors.  That would allow me to shorten the cabinets and install the microwave a few inches higher above the stove.
While I have done a lot of carpentry, I had never made cabinet doors like that.  I have used the router table a lot so I felt pretty confident that I could make custom cabinet doors.  I'll ask Ryan to post the pictures on the store's facebook website of the cabinet door pieces I made.  It might inspire you to do something similar.  (https://www.facebook.com/Durfeetruevalue/ )
We got new appliances that are stainless steel and between that and me working in the kitchen it made us buy a bunch of cleaning stuff from the hardware store.  We have this cloth that makes the fingerprints on the stainless go away.  We bought some wood floor cleaner.  (You shouldn't use water on a wood floor.)  I was expecting a lot of people to visit for the holidays so I bought some septic system treatment just in case.
Durfee's has a great selection of light bulbs and LED bulbs so we got some to replace some of the older ones we had as well.
---
Have questions or comments about the Newsletter? We'd love to hear them.
---
*Durfee Hardware will never ask you for sensitive information through any electronic correspondence*