December 2019 – Durfee Newsletter
Posted on December 3, 2019 by webmaster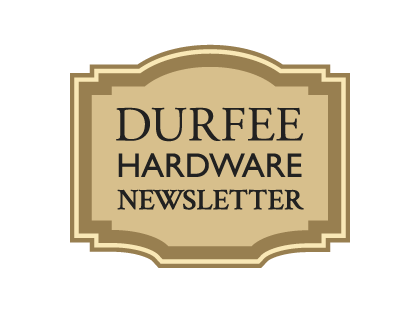 Durfee's will be 90 years old in 2020!!
The Durfee family wishes to thank you for being a patron of our store.
---
We're a great place to do your Christmas shopping.
In addition to things like tools for gifts we can be a great place for lots of stocking stuffers — both in the house and in the shop.
---
STORIES
The hardware store is approaching 90 years old.  You can see on the building a block that says "1930".  My grandfather built the place and, while it takes some maintenance, the place still looks an awful lot like I remember it as a kid.
While a lot of things have changed since my grandparents opened the doors in 1930 a lot hasn't changed as well.
People don't seem to have the time to walk down the street and go "window shopping".  That actually was a thing on Rolfe Street.  I remember working with my grandmother to update what was in the windows for people to look at.   Of course, I don't mind not having to take a complete inventory of the thousands of things in the store by hand (our computer does it for us in this electronic age) or unloading bags of cow manure by hand (we have a forklift now) like we did in the "good old days".
Things that haven't changed are that you still need to buy things for your home.  You also still need to fix things yourself.  That might be for saving money or it might just be that you want to "get it right".  As I've mentioned before, being a professional means you make money doing it but it doesn't always mean you get a better job than you could do yourself.
So, I suspect we'll be around long after drones start impersonally dropping packages at your door.  There is nothing like going to a local place and actually touching the things that you are considering buying.  I have to say that I don't know how I'd have come up with my recent plumbing solution without looking around at the various options in the store (with my brother's help).
Finally, we work hard to have a pleasant, knowledgeable staff.   Instead of an "online chat" with a robot, we actually talk to you face to face and can provide good advice on whatever your project is.  Another thing that doesn't happen everywhere is you can always ask to see the owners.
---
MY STUFF
Now that the porch railings are done at my house, I have some extra railing parts.    But, they are taking up the floor of my garage.  I realize that I have high ceilings in the garage so I've bought some 2 x 4's and bolts from the hardware store and I'm making a frame to hang from the ceiling to put all those parts on.  You know that there are "hardened" fasteners that can handle a lot more force.  They are also more expensive.  The Durfee's salesperson on the second floor (Jordan) reminded me I was looking in those drawers when I really wanted to be in the regular bolt drawers.  Not need for the extra expense hardened stuff for this task and I'm glad she steered me right.
I got new appliances but then I had to install them.  Refrigerators are the stupidest thing.  They are not a standard size like dishwashers and ranges.  So, I had to remove some wood molding to get the fridge in.  I'll have to figure out what to replace it with.  Also, it's a little thinner than the old one.  I'll have to use my table saw to cut a piece of oak to fill in that space.
While the microwave is the same size, no two companies (and even the same company) have microwaves that have the same mounting and screw pattern to hold the over the stove microwave in.  The last time I did this I just installed the microwave in the hole that exists but it was too low to exhaust properly.  I've decided to bite the bullet and make new cabinet doors so I can shorten the cabinet and move the microwave up.  I'll let you know how that works out.
The dishwasher should have been easy but this brand has plastic all over the bottom so I couldn't run the power cable at an angle like it used to.  So, I had to get an electrical box from Durfee's so I could extend the cable longer.  I got a new 3/8 water connection to the dishwasher to be more certain I don't have leaks.
Then I notice that the particle board under my sink is soft.  I could put my hand through it.  I know it was 33 years ago but why did the contractor put particle board under the sink??  I got some plywood from the store and I'm going to replace that particle board with it.
Then I'm reminded that the hot and cold sides of my faucet are lose and rotate.  While I have all this stuff removed from under the sink, this is the best time to fix that.  I felt that if I introduced a large rubber washer it would keep the handles from rotating on the granite countertop.  I had no real idea of what to use but my brother Paul found the right things for me and now the handles don't turn anymore.  There are these screws that help tighten these faucets down.  I put a little silicone seal on the threads so that it will have a "locking effect" so the screws won't back out from the position they are in.
Of course, you need the adapter stuff to connect the plastic tubing from the fridge ice cube maker to the copper tubing that is already there.
I'm replacing a number of wall plates and realized that I no longer have a screwdriver that is the right size for those screws so I bought a new one.
---
Have questions or comments about the Newsletter? We'd love to hear them.
---
*Durfee Hardware will never ask you for sensitive information through any electronic correspondence*