April 2020 – Durfee Newsletter
Posted on April 6, 2020 by webmaster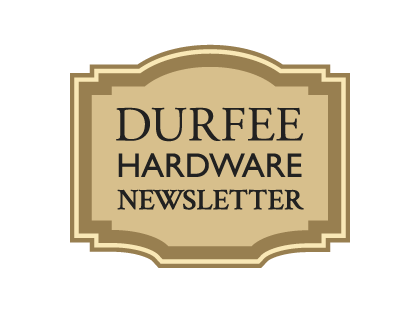 We wish to let you know that, as of today, Durfees will continue to be open to serve you.
While the Governor has shut down some retail stores, hardware stores are specifically listed by the Rhode Island Department of Business Regulation as a Critical retail business.  That means, based on the latest information, we are allowed to remain open.
---
Check our facebook page regularly to up to date information (or give us a call).
https://www.facebook.com/Durfeetruevalue/        (401 461 0800)
---
We are following the social distancing guidelines.  We have ample space in the store for the number of shoppers we have at one time.  We are regularly cleaning surfaces, etc.
If you don't want to come into the store we are happy to do curbside pickup or delivery.
Many items are currently in short supply.  My nephew is searching everywhere to track these items like hand sanitizer down.  So, their availability is spotty and limited.  We just want you to know we continue to work to get these items.
---
We thank you for shopping with our family owned business during this crisis.
---
STORIES
Funny you can get all sorts of things delivered now.  With everybody buying food and having it delivered it reminded me of the milkman we used to have come to the house.  There was a little metal container by the back door and he would replace the empty milk containers.
The other thing that was quite ahead of its time was this thing called "Charlie's Chips".  My mom signed up for these chips to be delivered to our house regularly.  They came in this big metal can.
If you google it you'll find there is a Wikipedia page for it and there are people selling the used cans as "vintage" stuff.  The story about them is at this link.
https://www.chipsandcrisps.com/charles-chips.html
---
MY STUFF
I bought Durfee Hardware sweatshirts for relatives that live far away but miss the hardware store.  As I suggested in the last newsletter, I bought fertilizer and limestone to spread on my lawn.
As you might suspect I bought some cleaners, paper towels, soap, and hand sanitizer.
Maybe you don't know but the CDC says "CDC recommends washing hands with soap and water whenever possible because handwashing reduces the amounts of all types of germs and chemicals on hands. But if soap and water are not available, using a hand sanitizer with at least 60% alcohol can help you avoid getting sick and spreading germs to others."
https://www.cdc.gov/handwashing/show-me-the-science-hand-sanitizer.html
I'm told there is some evidence that using paper towels is better than those hot air systems.
I bought some Swiffer refills so I can dust the floor.  (I've been sanding some things and dust is everywhere).
My corkscrew broke so we bought another one at the hardware store.  Might come in handy since we aren't dining out anymore.
Finally, I bought another pipe wood clamp.  My doors between rooms are 6 panel doors and they have separated a little at the joints after 34 years.  They are larger than the folding doors I had so my regular wood clamps don't extend far enough and I need four to clamp all of the seams.
---
Have questions or comments about the Newsletter? We'd love to hear them.
---
*Durfee Hardware will never ask you for sensitive information through any electronic correspondence*