October 2021 – Durfee Newsletter
Posted on October 11, 2021 by webmaster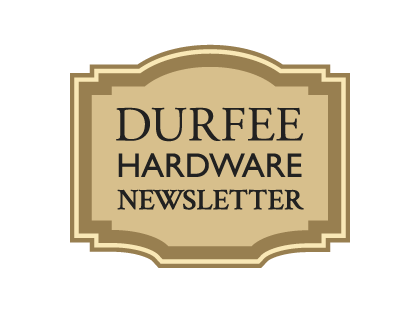 The weather has stayed pretty great so why not use the time to get a final yard cleanup done!
---
People seem to like a little story
My wife and I wanted to get rid of some furniture.  Our daughter was visiting and said she'd put it on facebook marketplace for us.  That has been nice because we met some nice people (and made some money).
The experience made me think about how things have changed.  Back when my parents were buying furniture, I don't think "fine furniture" was so expensive compared to your income as it is now.  I can remember that people would check the drawers to see if they were carefully made and had features like a "dovetail" connecting the drawer side and front together and a groove to have the bottom slide into.  You'd talk about if it was made of hardwood or not.
Then, back in the day, you'd get it home and it would be so nice that you would be very careful of it.  Almost to the point of avoiding using it.  There were lots of families that covered their sofas with clear plastic.
Anyway, I bring this up because there doesn't seem to be an interest in that type of furniture anymore.  The newer generations care more about how it looks than how it is made.   I guess they are the "Ikea" generation.  I'm not complaining about it.  People certainly get their use out of that furniture.
I will say that kind of furniture needs more repair than the old school stuff.  One way to avoid that is to use some glue when you are putting it together.  Of course, that makes it impossible to take it apart in the future but it does make it last much longer because all of the stress isn't just on the fasteners against the particle board.  (There is some commercial that calls it "fall-a-part-icle board".)  You can check with us as we do have a lot of the fasteners that are used with that sort of furniture.
---
Stuff we did this month—
You'll notice that there is a carbon monoxide detector on sale.  I didn't have one in my house and I thought it was about time that I did it.  I read that carbon monoxide is the leading cause of poisoning deaths in the US.
One thing you should think about is what the internet says about carbon monoxide.  "Carbon monoxide has a molar mass of 28.0, making it just barely lighter than air. This means that carbon monoxide alarms are far more effective when they are placed above the ground, closer to the ceiling."
Most advice I've seen says to place it 5 to 6 feet off the floor.
I was noticing some fungus on the fruit trees I planted three years back so I bought some copper based fungicide from the store.  I actually got a good apple this year from one of the trees!
Also, I finally got tired of a couple of the light fixtures that I have in my closets that the pull chain no longer works.  I replaced the two lamp holders and bought a decent looking extension to the chain so you don't have to be tall to put on the light.
---
Have questions or comments about the Newsletter? We'd love to hear them.
---
*Durfee Hardware will never ask you for sensitive information through any electronic correspondence*