October 2018 – Durfee Newsletter
Posted on October 2, 2018 by webmaster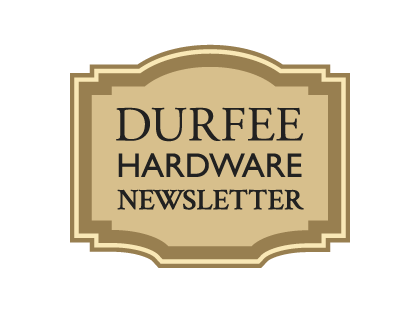 Fall has officially arrived! From yard clean-up and lawn-care, to housewares and holiday decorations, we are sure to have it in stock.
A great product not to overlook is "Wet & Forget" for removing mold growth from roofing and siding. Since the formula is not chlorine-based, you simply spray it on and leave it there for the rain to rinse away. I've tried it and it works pretty great! Stop in today to stock up on all your seasonal needs.
---
STORIES
I have a really fancy window at my house. A friend of mine made this window frame for me way before commercial companies started making unique windows. Each pane of the window is a different "pie" shape. Anyway, one of the panes cracked.
In order to replace it, I began by heating-up the putty with a torch and scraping the now softened putty out with a putty knife. Unfortunately, I then had to break the window in order to get it out of the frame.  All that reminded me of my Dad teaching me how to repair windows. Of course you probably wouldn't leave your 14 year old alone with a blowtorch and broken glass – who would? My Dad. Interestingly, that was one of the first things he taught me at the hardware store. I think he thought that it was something you could do without a lot of direction. To work "on the floor" of the store you have to know where thousands of items are, and what they do. That takes a decent amount of time.
Anyway, for those that have not fixed a window before, the putty hardens up like a rock but the torch softens it up so you can get it out. Be careful, not to use too much heat, or you'll set the wood on fire or burn the paint off! Then you put a "bed" of putty down for the window to be pressed into, but don't press too hard or you hand will go right through the window. Then the window goes in. Some small metal window "points" hold the window in place while the putty sets, then you put on the final touch with the putty that everybody can see.
---
MY STUFF
Now is a great time to take care of your lawn. I put winter fertilizer and lime on my lawn, and also bought some topsoil and grass seed to fill in some of the gaps in my yard. With all this rain the grass grew really fast!
I bought a bunch of patch filler for my driveway. The stuff we have works pretty great. I just have to buy it each year because my driveway is really old and more cracks keep showing up.
I got some "Wet & Forget" which kills mold and other stuff that began growing on my roofing and siding. I just sprayed it on then the rain washed it off. I didn't need to worry about washing it off right away because there was no chlorine content, which meant it wouldn't bleach my siding in the sun. When I finished that, I realized that one side of my garage looked bad; not because of mold, but because it needs a new paint job. So, I bought some house paint at the store.
I bought some specialty gas at the store for my chainsaw. This isn't the normal gas you get at a gas station, it is pre-mixed with oil and gasoline specifically for two-stroke engines and it seems to work pretty great. Oh, I bought some spot rug cleaner that worked pretty well. Just spray it on, wait a little while, and vacuum the stain away.
I also decided to sand-down a wooden medicine cabinet I had and buy some spray paint to make it a color finish instead of natural wood.
---
Have questions or comments about the Newsletter? We'd love to hear them.
---
*Durfee Hardware will never ask you for sensitive information through any electronic correspondence*