May 2021 – Durfee Newsletter
Posted on May 9, 2021 by webmaster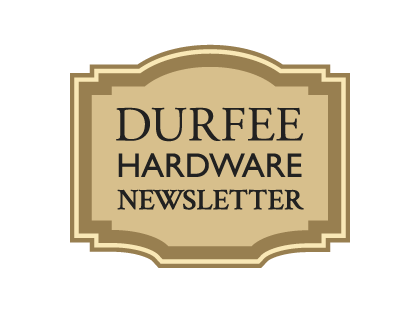 Well, we have had colder winters and snowier winters but this was the "longest" winter I can recall.  It seems like it would never end.
Now maybe we can get back to some of the things that we love.  My brother Paul just bought some new Quahog rakes and baskets.
They look fantastic. 
---
Also, I guess my nephew Ryan is thinking that there will be a lot of backyard barbecues happening.  He just bought a gigantic shipment of plastic dinnerware right from the factory.
As with every spring, we have new stuff at Durfee's that you should check out.
---
People seem to like a little story
I guess It's weird growing up in a family that runs a hardware store and, I guess, by a guy that grew up in the great depression.  I watched my dad fix absolutely everything in and around the house himself.  We weren't calling in plumbers or painters or electricians or carpenters.
My dad was a born teacher.  I think that may be why he taught Sunday School for so many years.  Between that personality trait and his knowledge of how to fix everything, I think he felt compelled to help new homeowners learn how to take care of their homes.
I had two friends of mine tell me stories that astounded me in a way.  One told me that trades people are so hard to get these days that their prices went up.  He said his faucet wasn't working properly and that a plumber quoted him $600.  I told him that I'll come over and show him how to replace it.  He said, "oh, that isn't for the whole job, just the labor".
Another friend told me that their toilet was "running" and was going to call a plumber.  I practically fell over.  I think my dad would roll over in his grave if he thought somebody wouldn't give that simple "fix" at least an attempt themselves.  This came up in conversation because I was teaching her how to drill and tap threads into a piece of iron for a project she told me about.  I suggested that if she could learn to tap a hole in her project, she could easily fix a toilet.
The truth is that these things are not particularly complicated.  Also, the spirit of teaching is still here at Durfee's.  We'll be happy to help you figure out the best way to solve whatever needs fixing.
So, maybe it is weird growing up in a family that fixes everything.  Maybe its time you start your own weird family!
---
Stuff we did this month
What did I do this month?  What didn't I do this month?
I finally removed the wallpaper from one of the bedrooms in my house.  The wallpaper was there for over 30 years.  (How embarrassing to admit?)  The key is getting all of the paste off the wall before you start painting or you'll have a terrible time getting it to look right.  I actually run the wall paper scraper across the whole wall to scrape the paste off after the paper is all down.  Of course, I had to buy some wallpaper remover from the store to get this job done.
The winter left me with a lot of moss in my lawn.  I put down a lot of pelletized lime at the beginning of the month and it has already started to make the lawn look a lot better.  Then I put the "weed and feed" down.  These last couple of rains have made the lawn look great!
I had previously repaired my roof but there was a little stain on the ceiling in one of the bedrooms.  I had to buy a quart of white ceiling paint to touch that up.
I hadn't opened up my above ground swimming pool for the last couple of years and decided to do that this year.  The pool is about 30 years old.  The metal top had peeling paint and looked terrible.  I took all the pieces off and spray painted them with Rustoleum.   Wow, the pool looks great now.  (We have algaecide and chlorine in stock.)  The deck next to it looked all moldy and grungy so I bought some deck wash and that really brought the deck back to life.
Ryan bought a bunch of inexpensive tee shirts that have a Rhode Island logo on them.  They are great to work in so I bought a couple of those so I could get rid of some of my really old ratty shirts that I used to work in.
The pool filter was really not feeling like it was working right when I would transition it from filtering to backwashing.  I realized that the 30 year old washer had cracked out.  This filter is so old that I knew I'd never be able to buy a washer from the manufacturer but I took the thing apart and brought it to the store.  Paul realized that a tailpiece washer (from the trap under your sink) was the exact size and material that would be great to solve the problem.    How great to solve a big problem with just a washer!
Since its spring and I'm pretty lazy about watering the lawn, I figured April was a good time to plant some grass.  I like to mix grass seed with topsoil.  I find that helps it get a good start.
I had an old cedar chest that my wife wanted to bring to a resale shop.  The only problem is that the bracket to hold the cover was broken.  I visited the second floor of Durfee's and found a new one that I could replace it with.  (Yes, the resale store decided it was something they could sell.)
Also, we chose springtime at my house to be the time for annual septic system maintenance.  So, after the company that pumps the septic tank comes, we buy some septic tank treatment from the hardware store to add to the system to get it off to a good start.
---
Have questions or comments about the Newsletter? We'd love to hear them.
---
*Durfee Hardware will never ask you for sensitive information through any electronic correspondence*