August 2021 – Durfee Newsletter
Posted on August 8, 2021 by webmaster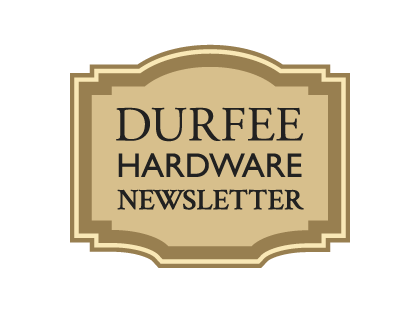 I neglected to mention that I opened my pool.
Durfee's has chemicals and test strips, etc.  (If your ph is not in the right range, the chlorine won't work so well so the test strips are vital.)
---
People seem to like a little story
I've got 35 years of junk that collected in my basement so I finally decided to start cleaning it out.  Underneath all of the boxes I found two very large counters made out of solid redwood.  These things came from the hardware store years ago.  I put them in my basement so the stuff I stored would not be on the floor.
Back in the 1930s, if you opened a store, you had to make your own counter systems.  One of the counters in my basement has a series of holes cut into it.  The holes were so you could put the various mops and sponge mops we sold into the holes so they would stand up for display.  Over the years we at Durfee's have installed more modern metal shelves for our products.  This isn't because we love metal so much.  Its because we can fit thousands more products on our shelves than if we kept the counters that my grandfather built 90 years ago.
The redwood they were built from was interesting in and of itself. These boards are very wide and they are all "heart wood".  Often if you go to buy redwood these days, it is made up of mostly "sapwood".     The heart wood is from the middle of the tree and has the attributes you would attribute to the species like the color of the wood.  The sapwood is from the outer part of the tree and is not that great for woodworking and contains a lot more moisture.  Sapwood does not have the anti-rot and bug resistance that the redwood heart wood has.
These days redwood is much more expensive than pine.  I'm guessing it was also more expensive back in my grandfather's day as well.  He appreciated a job well done and I think it shows in these counters.
On a completely different topic, I thought also that I would mention that I recently went to dinner at the Matunuck Oyster Bar.  We had dinner on the roof and could see all of Potter's pond and Point Judith Pond.  The view was outstanding.  Watching the sunset makes you realize we live in a great place.  You could see people out in the pond Quahogging.  I'll take this opportunity to remind you that we put in a great line of clamming rakes and associated gear (like floating nets).  By the way, the spell checker doesn't know what Quahogging is.  I kinda like that.
---
Stuff we did this month
This month I did a bunch of electrical work.  The breakers and GFCI associated with the above ground pool I have were no longer working.  The GFCI didn't pass the test when I pushed the button and one of the breakers out and out failed.
These were in an outdoor panel that was mounted on some boards.  Those boards were rotting away so I replaced them.
Replacing a circuit breaker is a pretty easy task.  The key is to kill the power in the panel so that you can do it safely.  Also, there are basically two kinds of circuit breakers that you will find in homes and you want to make sure you get the right one to fit your panel.   Most of the panels are of the stab type and were made by companies like GE, Murray, and Eaton.  The other was made by square D and has a clip to mount it.  I think square D makes the other type as well so this "odd" type is called a square D "QO" breaker.  That is the one I needed for my panel.
There are different technologies for breakers as well.  There is an "arc fault" breaker that is required for just about all living spaces in your house.  There is a "ground fault breaker" and these are required in places where there is water like outdoors, a pool, your bathroom, your kitchen.
You may ask if you have to replace your "standard" circuit breaker with an AFCI to comply with the newer versions of the national electrical code.  As long as you haven't modified the circuit that your standard breaker served AND the system was installed before AFCIs were required, you can replace your standard breaker with another standard breaker.
---
Stuff we did this month—
I spent a lot of time visiting my kids so I didn't do much work around the house but Ryan tells me that he replaced some overlay hinges that broke on a kitchen cabinet. I think that most people would have thought that the cabinet was ruined. He drilled out the cabinet to larger holes and then used wooden dowel pins to fill them. Just a bit of wood glue to glue it all together. Then redrilled the holes to fit the new screws.  Just like new!
---
Have questions or comments about the Newsletter? We'd love to hear them.
---
*Durfee Hardware will never ask you for sensitive information through any electronic correspondence*