April 2019 – Durfee Newsletter
Posted on April 1, 2019 by webmaster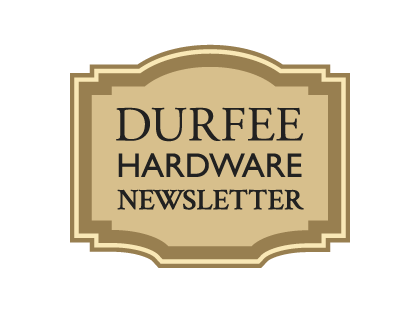 OK, spring is here.  So you know, there is more than one company that makes a 4 step product.  We have all the stuff to make your lawn awesome.  There is moss control, weed control, fertilizer, etc.  You can put the crabgrass preventer down now.
Also, don't forget to watch our sidewalk for when the flowers and vegetables show up for sale.
---
STORIES
My son is engaged to a woman from California (thankfully she's pretty great!).  It's kind of a different culture just due to the weather.  Actually, they talk more about the traffic than they do weather because the weather doesn't change much.
I just bring it up because I think that, while winter can be hard sometimes, that spring is fantastic.  People get all excited to plant things and everybody's disposition lightens up.  That transition from winter to spring makes you appreciate going out without a coat on.
For baseball fans, spring training is a sign of spring.  You might think its silly but for us at the hardware store it is the changing of displays from snow based products to fertilizers, chain saws, lawn mowers, garden tools, etc.
I have to admit that it makes me happy to see Durfee's has put the lawn mowers and wheelbarrows out on the sidewalk.  It's a sign of spring……
---
MY STUFF
I forget half of what I do around the house in a month.  I've been doing a lot of yard work and also inside painting these days.  I thought I'd copy my last receipt and put it here.   That is just one visit last week.
The fuel stabilizer is for the snow blower.  The pickaxe I bought (last item) was to dig some holes to plant a couple of trees.
.75CUFT PRM Top Soil
Cascade 14CT Action Pac
25PK 1/2 Tube Strap
MM GAL Bar & Chain Oil
6CT Wand Head Refill
32OZ 50:1 Fuel/Oil
4OZ Fuel Stabilizer
BLK Beaut3LB Grass Seed
5LB FBG Pick Mattock
---
Have questions or comments about the Newsletter? We'd love to hear them.
---
*Durfee Hardware will never ask you for sensitive information through any electronic correspondence*